Main Content
Marketing
Are you innovative, curious, and resourceful? Do you like problem solving and discovering the next best thing? Put your passion to work with an exciting career in marketing.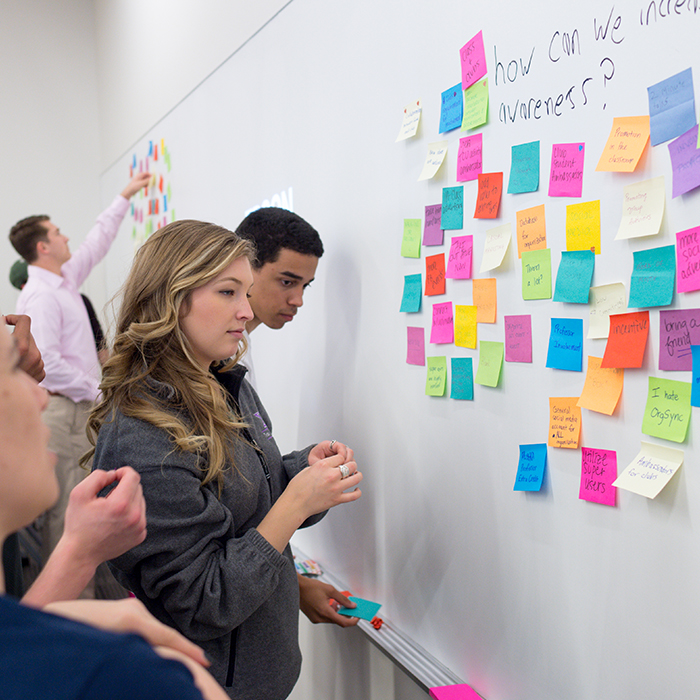 Every organization wants to be successful. The key is understanding what customers want and need—that's where marketing comes in. With a degree in marketing you'll be uniquely positioned to leverage messaging, create and manage brands, explore partnerships, apply marketing research and engage with customers across an array of platforms.
In today's fast paced world of media, the need for marketing has never been stronger, and demand continues to rise for high-tech, multichannel marketing skills. The opportunities are endless, and one guarantee that comes with a career in marketing is that you will never be bored.
We offer a BBA in Marketing and a full-time MBA with concentrations in Brand Communication Strategy, Marketing Analytics, and Consultative Selling.
Can't decide? Consider a dual major in marketing. Companies love candidates who not only understand marketing principles but can also apply these skills and impact the bottom line. And if you dream of building your own empire one day, the first step in any successful business is understanding marketing.
Visit Department Website
Programs Offered
---
Sample Courses
---
Marketing Strategy
Digital and Social Media
Design Thinking
Product Innovation and Brand Management
Sports and Entertainment Marketing
Consultative Selling
Customer Insights
View Courses & Degree Requirements
Special Admission Requirements
---
Attend the Neeley School's First-Year Symposium
Pass Microsoft certification
Maintain a GPA of 2.5 or greater
Complete 24 credit hours at end of your first year
Our Faculty
---
Our faculty members will engage you in design thinking, hands-on selling, ad competitions, special problems in marketing and more. They rank highly for mentorship, academic experience and teaching quality, and bring to the classroom a wealth of experience as both marketing professionals and educators. Their research and insights are featured in prestigious publications and media outlets.
What Sets Us Apart
---
Our marketing program is ranked #19 in the nation by Bloomberg Businessweek. And in 2019, the American Marketing Association has ranked Neeley School of Business #35 in the world for research productivity.
The marketing major we offer has three tracks from which to choose:
Digital Communications – Plan and direct marketing campaigns, integrating new digital with traditional media, by identifying compelling brand messages and communicating them clearly and transparently to customers.
Consultative Selling – Influence customers, colleagues and managers through a needs-based sales process that is applicable to any industry and career.
Marketing Analytics – Measure, manage and analyze customer responses and marketing performance to maximize effectiveness.
Our TCU Sales Center gives you unique hands-on, real-world experience with exciting businesses to prepare you for career success.
The TCU Collegiate Chapter of the American Marketing Association allows you to meet other marketing majors and learn from successful marketing professionals from a variety of careers.
Career Prospects
---
Every company needs marketing. You can work in retail, athletics, fashion, manufacturing, public services, advertising, tourism, consumer goods, music, electronics, financial institutions and more. In the fast-paced and ever-changing world of media, the demand for marketing professionals has never been stronger, especially if you have high-tech, multichannel media skills.
Most sales program report job placement over 95% and starting salaries at more than $60,000 a year (Sales Education Foundation).