Main Content
Accounting
Do you like to find answers, solve problems and help people? Get ready for a rewarding, challenging, well-paying career in accounting.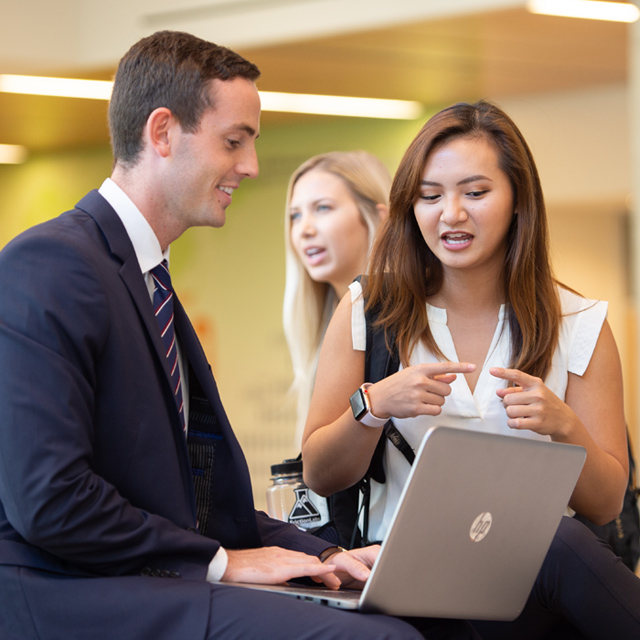 Accountants and auditors are smart, organized, detail-minded, objective professionals who are good communicators and possess high integrity. You can work with individuals, Fortune 500 companies, not-for-profit organizations, governments, startup companies, schools and more. Through TCU's Professional Program in Accounting (PPA), you can get your BBA and Master of Accounting degrees in five years, putting you on the road to take the CPA Exam to be a Certified Public Accountant.
Visit Department Website
Special Admission Requirements
---
Attend the Neeley School's First-Year Symposium
Pass Microsoft certification
Maintain a GPA of 2.5 or greater
Complete 24 credit hours at end of your first year
Our Faculty
---
Our faculty members will engage you in meaningful dialogue, critical thinking and ethical decision making. They rank highly for mentorship, academic experience and teaching quality, and bring to the classroom a wealth of experience as both accounting professionals and educators. Their research and insights are featured in prestigious publications and media outlets.
What Sets Us Apart
---
TCU Professional Program in Accounting (PPA) provides a seamless path to professional success from the BBA to the Master of Accounting program (MAc). This three-year program emphasizes academics, professional development and career planning. Apply to the PPA between your sophomore and junior years. Admission is based on academic performance and a declared interest in pursuing an accounting career and sitting for the CPA Exam.
Jobs and Internships - TCU accounting majors have a 94% job placement rate at graduation. Almost 100% of juniors have paid internships.
Advisory Board - Get advice, internship experience, mentoring and more from the accounting advisory board members representing more than 16 companies.
Accredited by AACSB - TCU is one of only 180 elite accounting programs in the world accredited by the Association to Advance Collegiate Schools of Business, the hallmark of excellence in business education.
Career Prospects
---
You'll enjoy job satisfaction in a variety of careers that provide flexibility, financial security, prestige, intellectual development and contributions to society. TCU accounting graduates have landed careers at Deloitte, KPMG, Weaver, Ernst & Young, PricewaterhouseCoopers, Grant Thornton, Whitley Penn, BDO, BNSF Railway, Goldman Sachs, Fidelity Investment, J.P. Morgan and more.
The median annual income for accountants and auditors is nearly $70,000 and employment is projected to grow 10 percent from now to 2026, faster than the average for all occupations (U.S. Department of Labor).