Main Content
Business Information Systems
Excited about technology? Do you love finding better ways for companies to serve their customers? Here's your chance to apply the latest innovations to digitally transform modern business.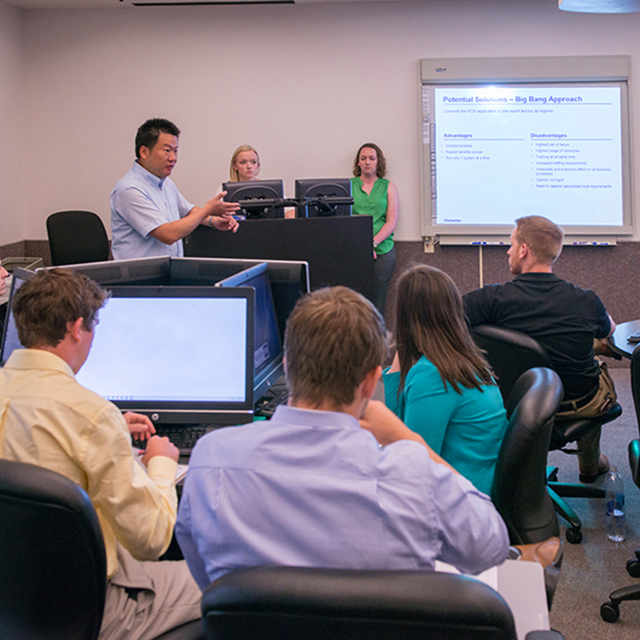 "At least 40% of all businesses will die in the next 10 years… if they don't figure out how to change their entire company to accommodate new technologies" —John Chambers, Executive Chairman, Cisco Systems
Organizations are struggling to recognize the opportunities and risks of what has been called the next industrial revolution – digital transformation. How can executives understand and leverage the rapidly changing technologies of social media, the internet of things, mixed reality, blockchain, and analytics tools?
Through insights from recurring meetings with IT executives on our BIS advisory board, we've designed our curriculum to prepare our students to successfully participate in the projects designed to engage customers, deliver products efficiently, support analysis, and provide new services enabled by new technologies. Our students learn to design technologies and manage the implementation of these technologies to help organizations achieve their goals.
Visit Department Website
Programs Offered
---
Sample Courses
---
Analytics and Business Intelligence
Capstone
Data Management
Development
Enterprise Resource Planning
Cybersecurity
Systems Planning
View Courses & Degree Requirements
Special Admission Requirements
---
Attend the Neeley School's First-Year Symposium
Pass Microsoft certification
Maintain a GPA of 2.5 or greater
Complete 24 credit hours at end of your first year
Our Faculty
---
Our BIS faculty include teachers with decades of professional experience and researchers who have published in the leading IS journals. We employ leading teaching approaches such as flipped classrooms, virtual classrooms that allow students to study abroad, and special study opportunities to best position students for finding desirable employment options.
What Sets Us Apart
---
Capstone – You'll work with industry sponsors on novel, relevant projects selected by DFW executives.
Special Study Opportunities – We offer ad hoc non-credit sessions to help take your career preparation the extra mile, and opportunities to attend SWSX for exposure to cutting-edge technologies.
Association for Information Systems – Our student-driven club creates opportunities for students to prepare for professional success through networking opportunities and connecting students and alumni.
TCU BIS Advisory Board - Interact with technology leaders and CIOs at networking events.
Career Prospects
---
Demand for computer and information systems managers is skyrocketing. Forbes rates Business Information Systems as the 8th most valuable college major. The median annual wage is $139,000 (2017) and employment is projected to grow 12 percent from now to 2026, faster than the average for all occupations. (U.S. Bureau of Labor Statistics.)