Main Content
Journalism
Interested in the news and current issues? Learn to tell the world's stories through writing and multimedia.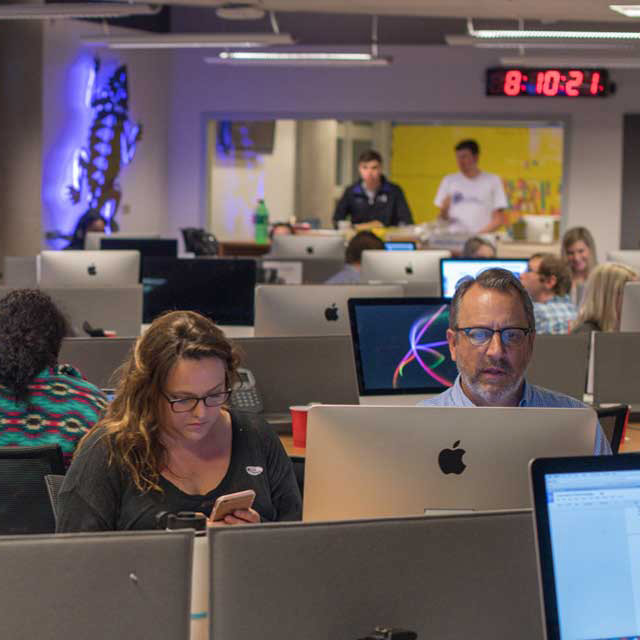 In the tradition of ethical journalism made legendary by our namesake, Bob Schieffer, our mission is to prepare tomorrow's leaders for all facets of the news industry. We train our journalism majors in the skills needed to compete effectively in broadcast, print and digital media. You'll learn writing and reporting skills guided by ethical decision-making as you participate in all aspects of creating and producing a newscast or sportscast. As a multimedia journalism student, you'll gain an understanding of modern communication in and out of the classroom.
Our studios are equipped with video editing software, design software and cameras so that our students can create any form of communication. TCU journalism majors gain experience on campus and around Fort Worth. Juniors and seniors can apply for our Washington, D.C. internship program, which places students for semester-long internships in the nation's capital.
Visit Department Website
Sample Courses
---
Diversity in the Media
Newscast
Long-Form Journalism
Sports Journalism
Introduction to Visual Journalism
Global Communication in Context
View Courses & Degree Requirements
Special Admission Requirements
---
There are no special admissions requirements for this program.
Our Faculty
---
Many of our faculty members have worked in major media markets and have earned degrees from universities such as Harvard, Northwestern and Missouri.
What Sets Us Apart
---
Dallas/Fort Worth is the fifth largest media market in the United States, making our location highly desirable for internship opportunities.
TCU has multiple specialized campus media outlets. Students can explore general reporting at tcu360.com, entertainment and sports writing for The Skiff, political news reporting and writing for politifrog.com, community news at our hyper local site, the109.org, and art, design and fashion reporting for Image Magazine. Other learning opportunities include our university radio station, KTCU and ROXO, our student- run advertising and public relations agency.
Journalism students may also enjoy TCU's national award-winning speech and debate team, and TCU's Student Filmmakers Association.
Career Prospects
---
Our graduates work as news and sports reporters, columnists, editors, designers, newscasters, producers, photojournalists, media entrepreneurs, and managers across multiple media platforms. Some have gone to law school or entered other graduate programs for more specialized learning. Horned Frogs work in media organizations in markets like Washington, D.C., Los Angeles, New York City, San Antonio, Houston, Dallas/Fort Worth, Minneapolis, and abroad.
Related Academic Programs
---