Main Content
Communication Studies
When it comes to personal and professional success, communication is everything. That's why it's such a valuable area of study.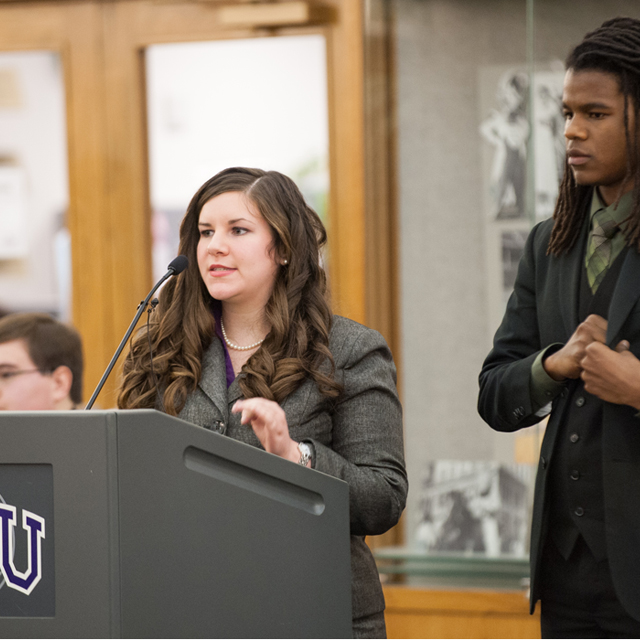 Surveys have shown that the ability to speak effectively, to listen carefully, and to write clearly are the first, second, and fourth most important factors in hiring decisions.
In this major, nationally recognized specialists in interpersonal and organizational communication will teach you how to build a foundation for success in any number of careers, and you'll learn how to form more rewarding relationships both professionally and personally. You can take on an internship to apply what you've learned in class, or prepare for study in the nation's best communication studies graduate programs.
Visit Department Website
Programs Offered
---
Sample Courses
---
Gender and Communication

Listening

Family Communication

Power and Influence in Interpersonal Communication

Communication and Character

Intercultural Communication
View Courses & Degree Requirements
Special Admission Requirements
---
There are no special admissions requirements for this program.
Our Faculty
---
You'll learn from outstanding faculty members with degrees from Columbia University, Arizona State, Texas A&M University and other top-rated universities.
What Sets Us Apart
---
We offer multiple communication outlets on campus, including our national award-winning speech and debate team; our Student Filmmakers Association; our KTCU radio station; our student-run advertising and public relations agency, ROXO; our digital, print and broadcast news platforms, TCU News Now, The Skiff, Image Magazine and TCU360.com.
Juniors and seniors can apply for our Washington, D.C. internship program, which places students for semester-long internships in the nation's capital.
Career Prospects
---
More than 96 percent of recent Communication Studies graduates surveyed found jobs less than three months after graduation. Recent graduates now hold positions such as Account Executive, Director of Human Resources, Assistant District Attorney, Director of Internet Communications, Director of Training, Marketing Education Manager, Pharmaceutical Representative, and Recruiting Coordinator. Many also pursue graduate study.
Related Academic Programs
---