Main Content
Film, Television and Digital Media
Do you dream of being part of the big (and small) screen? Learn to create or analyze content for film, television, and entertainment programs.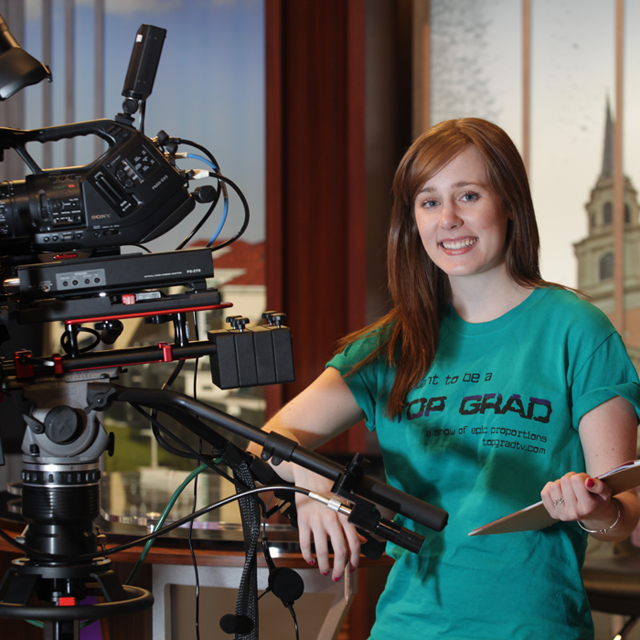 The writers, producers, directors, creators and technicians in the media arts shape our daily global culture. A Film, Television and Digital Media degree from TCU will help you develop the skills and contacts to get started in the media industries.
Visit Department Website
Sample Courses
---
Basic Video Production
Motion Graphics
Sex and Violence
Producing the Live Sports Event
Documentary Production
Crime Films and Society
View Courses & Degree Requirements
Special Admission Requirements
---
Admission to the Sports Broadcasting major is by competitive application and is not guaranteed. Please read the full course requirements for more information.
Our Faculty
---
You'll learn from faculty who have worked in the film and television industries and who have earned degrees from NYU, University of Southern California and the University of Texas.
What Sets Us Apart
---
You'll be taught and mentored by an award-winning faculty, including an Emmy winner.
Dallas/Fort Worth is the fifth largest media market in the U.S. and offers myriad internship opportunities. Internships in New York and Los Angeles are also popular with our students, and our semester-long Washington, D.C. program offers both an internship and coursework.
Our state-of-the-art production studios include the latest video editing and special effects software. You can round out your education with courses in media analysis, media industry studies, and media production.
You can be a deejay, producer or podcast creator for KTCU 88.7 FM radio. Our students work on the sidelines and in the press box at sporting events—at home, on the road and even at bowl games.
Digital, print and broadcast news platforms at TCU include: TCU News Now, The Skiff, Image Magazine and TCU360.com. Other opportunities include a national award-winning speech and debate team, a Student Filmmakers Association, and our student-run advertising and public relations agency, ROXO.
Career Prospects
---
Our graduates have succeeded at ABC Sports, CNN, Columbia Tri-Star, NBC, network and local radio and TV stations, top production companies, and are affiliated with programs like As the World Turns, Late Night with David Letterman, The Walking Dead, Will and Grace, The X-Files, and The Young and the Restless.
Related Academic Programs
---