Main Content
Graduates
Before commencement you must complete the following easy steps to graduation: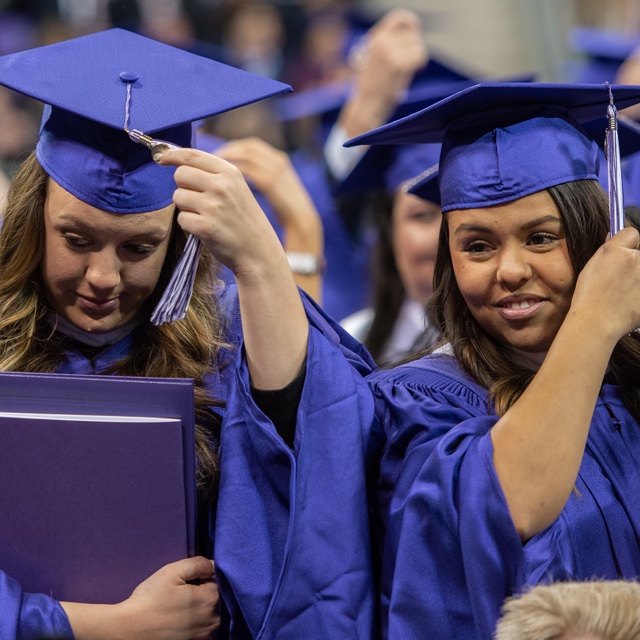 File an intent-to-graduate form in your academic dean's office early in your next-to-last semester of study. You should meet with your academic advisor prior to registering for your final semester's classes.
Complete the courses for your final semester. Be sure that all "I" (incomplete) grades are completed and all official transcripts from other universities are filed in the Registrar's office. Deadline for "I" grades is March 25 and for transcripts is May 5.
Update your current address (where you presently reside) and your permanent address (parent or guardian's address) online at: my.tcu.edu…Student Center…Personal Information. The addresses are important as you will receive mailings from the Registrar, the Chancellor's office and other key University personnel concerning graduation. Your address also is provided to the professional photographer. (NOTE: If you have FERPA set on your account, your address will not be given.)
Complete exit requirements for your student loans
here
. You may view your loans borrowed at TCU at: my.tcu.edu…Financial Aid…Loan Summary. If you need help completing these requirements, please contact the Financial Aid office at
financialaid@tcu.edu
.
Satisfy all financial obligations in the Financial Services office by May 1.
Log onto my.tcu.edu, student home page and click Academic Records, Diploma/Cap and Gown Ordering. Once you have placed your diploma order, scroll to the bottom to order cap/gown. (Cap and gown orders placed after midnight April 5 are subject to a late fee.) After April 5, contact Jostens at 800-854-7464 or email dawn.prejean@jostens.com.
The gown is rented; however, graduate students who wish to purchase the gown and/or hood may contact Jostens at dawn.prejean@jostens.com. Graduates may keep the cap and tassel.
When ordering your diploma at my.tcu.edu, remember that tradition suggests your full name (First Middle Last) for the diploma; no nicknames or titles. The name published in the Commencement program will be the same as the name you have printed on your diploma. The deadline for online diploma ordering is April 5 at midnight. All accounts must be paid by May 1.
Only the degree name prints on the diploma; majors, minors and concentrations print on the official transcript. Latin Honors are also printed on the diploma, and all honors are printed in the program. There are no cords for Latin Honors. Some organizations provide honor cords to wear with the gown. Contact your organization for this information.
If you cannot attend commencement, check the "Not Attending Commencement" box. Diplomas will be mailed after commencement if they are not picked up from the Registrar's office the week following commencement.
Other Important Information
Before commencement, a walk-number card will be emailed to you. This card will indicate your place in the processional line. You must print out this card and present it at commencement to ensure you receive the correct diploma. If you lose this card, you must report to the Registrar's table located near the graduate line-up area on commencement day.
Pick up your cap and gown at the TCU Campus Store, 2950 W. Berry Street:
Tuesday, May 4 - Thursday, May 6
8:30 a.m. - 5:30 p.m.
Friday, May 7 in the tunnel entrance to Schollmaier Arena
10:30 a.m. - 2:00 p.m.
If you miss this deadline, you can pick up your cap and gown on the day of Commencement. A representative from Jostens will be set up near the graduate line-up area.
Incomplete grade deadline is
March 25
unless you have filed an extension or are working on your thesis/dissertation. You cannot graduate with an "I" that has not been removed. Deadline for receiving transcripts from another college is
May 5
. Please make arrangements with your professors at the other university in order to meet this deadline. If you have any trouble with this deadline, contact Kristi Harrison in the Registrar's office at 817-257-5090 or
k.harrison@tcu.edu
.
The graduation fee is charged to all degree candidates to your student account. Once you are listed as a degree candidate, this is a non-refundable fee, even if your graduation is deferred for academic or financial reasons. Your student account must be paid in full by May 1.
Undergraduate: $55.00
Master: $65.00
Doctorate: $100.00
If you have any questions, please contact: Student Financial Services (https://vcfa.tcu.edu/financial-services/) at 817-257-7836.
Lauren Studios will come to campus on the following dates to take senior photos for the Horned Frog Yearbook and for personal use. Appointments are required; visit https://laurenorders.com/login (client ID is 21TCU-*student ID number*) to make your appointment. The photos will be taken in the Hillel room on the 3rd floor of the BLUU.
Plain clothes, as well as cap and gown (which will be provided), photos will be taken. The plain clothes photos will be used in the Yearbook, and the cap and gown photos can be ordered for personal use. Ordered photos will arrive in time to be mailed out with graduation announcements. For any questions, please contact the Yearbook staff at 817-257-5279 or at yearbook@tcu.edu.
Monday, March 8-Friday, March 12
Monday, March 15-Friday, March 19
Commencement is a special event for everyone involved. Please show respect for all who have come to share in this landmark experience. Individuals who engage in appropriate or disruptive behavior may be removed from the event.
Any artificial noisemakers (i.e., air horns, cans filled with contents, etc.)
Balloons
Confetti
Smoking (Please note: TCU is a tobacco-free campus.)
Pets
Alcoholic beverages
TCU enforces a clear bag policy for all campus events.
Please see ushers for lost and found. After Commencement, contact the TCU Police office at 3025 Lubbock Ave. or call 817-257-7777.
Flash Photography will be on hand to take pictures of all graduates. Three pictures will be taken: one with the Chancellor, one with the Dean and a posed shot after you exit the stage. The company will mail proofs to the graduate's permanent address and send an email with instructions on how to order photos. For questions, please call 817-924-2626 or email flash10@aol.com.
NOTE: If you have FERPA set on your TCU account, your address will not be given to the professional photographers.
Important Numbers
| | |
| --- | --- |
| AddRan College of Liberal Arts, Dean Sonja S. Watson | 817-257-7160 |
| Bob Schieffer College of Communication, Dean Kristie Bunton | 817-257-5918 |
| Brite Divinity School, Dean Michael St. A. Miller | 817-257-7577 |
| College of Education, Dean Frank Hernandez | 817-257-7663 |
| College of Fine Arts, Dean Richard Gipson | 817-257-2787 |
| College of Science & Engineering, Dean Philip S. Hartman | 817-257-7727 |
| Harris College of Nursing & Health Sciences, Dean Christopher R. Watts | 817-257-6758 |
| John V. Roach Honors College, Interim Dean, Ronald L. Pitcock | 817-257-7125 |
| Neeley School of Business, Dean Daniel W. Pullin | 817-257-6772 |
| School of Interdisciplinary Studies, Interim Dean Sonja S. Watson | 817-257-6163 |
| | |
| --- | --- |
| Alumni Association | 817-257-7803 |
| Career & Professional Development | 817-257-2222 |
| Commencement, Office of Community Projects | 817-257-7808 |
| Financial Services | 817-257-7834 |
| Flash Photography | 817-924-2626 |
| Herff Jones (announcements) | 281-353-2774 |
| Jostens (cap & gown) | 800-854-7464 |
| Registrar's Office | 817-257-7237 |
| TCU Campus Store | 817-257-7844 |